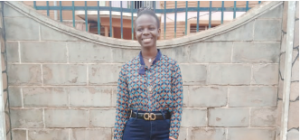 With the pandemic and new normal that we are in, the way I live, think, plan, treat those around me, the attitude towards things had changed and many other things.
Being a 22-year-old final year student. The lockdown has not been so good and has affected me in so many various ways. Just the thought of when the degree will finally get done just breaks me down, living in one place all day causes sickness, no friends around and taught me a lot, to value every moment preciously and live like it were the last.
However, the lock-down experience has opened my eyes to see more, my ears to listen more, my mouth to speak right and mind to think more. I have been able to sit down with my siblings to help them understand howlife is in general and how the university life is verses what they think it is.
In this lock-down i am privileged to have poultry at home and am always engaged in rearing some local birds. I am able to detect those that are sick, to know when to feed them, vaccinate, immunize, check the eggs that are being laid soon or later they be ready for sale and consumption.
Being a sports lady, the lock-down is a blessing in disguise. I have able to keep out with my workouts and fitness. I challenge myself with new soccer skills done by the great footballers like Messi, Ronaldo, Neymar, Mbappe etc. I am positive enough that at the end of this period I will be better in soccer than I was when I just returned. Prayer is another thing that is the order of the day in lockdown. For one to wake up every day still healthy and safe from the dangerous covid-19 is a blessing that I don't take for granted and I thank God every day for my life, family, friends, lecturers, teachers and I do pray for all those who are sick and those who lost their dear ones. It's not easy especially when friends and family lose dear ones and can't be there because of the pandemic so it's only the prayers left to offer.
Generally, as a student, the lock-down has not been good but life comes first and I do encourage my fellow students out there, the MUBS fraternity to continue keeping safe, sanitizing, steaming, wearing the masks so that we live up to the dreams we once and always had.
We are to light up the world and make it a better place but that can only happen when we are live.
STAY SAFE
AMEEDE MARY IMMACULATE
BCOM III
(MUBS JINJA CAMPUS)