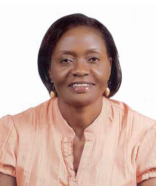 Dr. Amina Tamale
On July 22, 2021 MUBS Jinja Campus organized an online training under the them; "Over view of covid-19, home based care and commonly asked questions about covid-19 vaccination"
The training was facilitated by the School doctors led by, Dr. Amina Tamale, the Director MUBS Health services, Dr. Umarashid Gulooba , Deputy Director MUBS Health services and Dr. Patrick Ajuna , Campus Doctor Jinja campus.
Dr. Tamale emphasized how covid-19 is transmitted, its symptoms, and how to prevent it. Dr. Tamale encouraged people to avoid "MEN" that is avoid touching one's Mouth, Eyes and Nose. She advised the public to follow "WOMEN" that is W-wash your hands,Oobey objectives, M-move away from crowded places, exercise regularly, N-never ignore warning signs.
Dr. Umarashid Gulooba explained the home based isolation and care and the particular people eligible for home-based isolation, home remedies among others.
Dr. Patrick Ajuna, thanked people for continuing to observe Covid-19 prevention SOPs, and noted that "indeed the country is registering a significant drop in the
number of positive cases as shown in the table below. However the number of deaths is still alarming, so kindly continue to adhere to the SOPs
Dr. Ajuna explained three factors to help the public to make safer choices to avoid contracting Covid-19
1- Location, Open air spaces are safer than enclosed spaces
2-Proximity, further away from others is safer than close together
3- Time, shorter time periods with others safer than long time periods
Crowded indoor settings like places of worship, offices, restaurants, fitness classes, choir practices where people talk loudly, shout, sing or breathe heavily are at higher risk of spreading the infection